@ViennaHTML Meetup #4
Vienna, October 2016
Event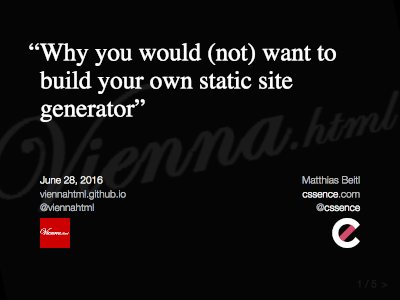 For the forth time the local developer meetup @ViennaHTML took place. This time I attended. And also spoke.
Talks & Speakers
Metadata
I had to send some information about me and my talk to the organizer, which I did.
Summary:
It's a brave new world of static site generators out there. So why would you write your own when this is your competition? We'll look into the pros and cons. And pitfalls.

Bio:
Matthias Beitl gets paid for technical consulting, which tends to be rather fuzzy. To combat this, he manages to sneak in some tangible web development whenever possible. He really likes the web, his first site went online in 1998, at a time when having a tilde in the URL was the norm. IRL hobbies include coffee and ducks, in that order.